offerings
We identify opportunities and realise the potential
AI is ready for business
Data, advanced analytics and AI, are reshaping our world. Companies that accelerate insights-to-action loops will gain an advantage. We'll help you achieve it.
How we propel organisations forward
01
Identify data-driven opportunities
Identifying data-driven opportunities within your organisation is crucial to staying competitive and finding new ways to innovate. Our team will clarify and prioritise these opportunities, ensuring that you are making the most value of your data.
02
Structure data to insights
Structuring and refining data is essential for creating reliable and actionable insights. Our senior teams are experts in working with vast amounts of data and can help you aggregate and structure your data to create a solid foundation for data-driven decision-making.
Complex data can be overwhelming and hinder effective decision-making. We can help you capture and visualise your data in simple, intuitive ways, using tools and techniques that break down complexity and optimise operational decision-making.
04
Enhance data ecosystems
A well-designed data ecosystem is crucial for accessing and using the right data to achieve your organisation's goals. We can help you assess, build, and optimise your data ecosystem.
Our teams work either within your existing infrastructure and platform or help you establish new platforms. We work across a variety of platforms and tools delivered by Microsoft Azure, Amazon (AWS), Google Cloud, Tableau, Power BI, Qlik and many more.
06
Improve decision making
We deliver impactful cutting-edge data, analytics and AI solutions to help you achieve your desired outcomes and gain a competitive advantage. We deliver cutting-edge solutions that provide impactful insights and support better decision making.
How we work with Advanced Analytics & Artificial Intelligence
As a business, you constantly seek ways to gain insights from your data and make better decisions. With descriptive, predictive, and prescriptive AI, you can unlock the full potential of your data and gain a competitive edge in your industry.

By using these three types of advanced analytics and AI together, you can gain a comprehensive view of your data and use it to drive better business outcomes. Don't miss out on the power of AI - start using descriptive, predictive, and prescriptive AI to drive your business forward today.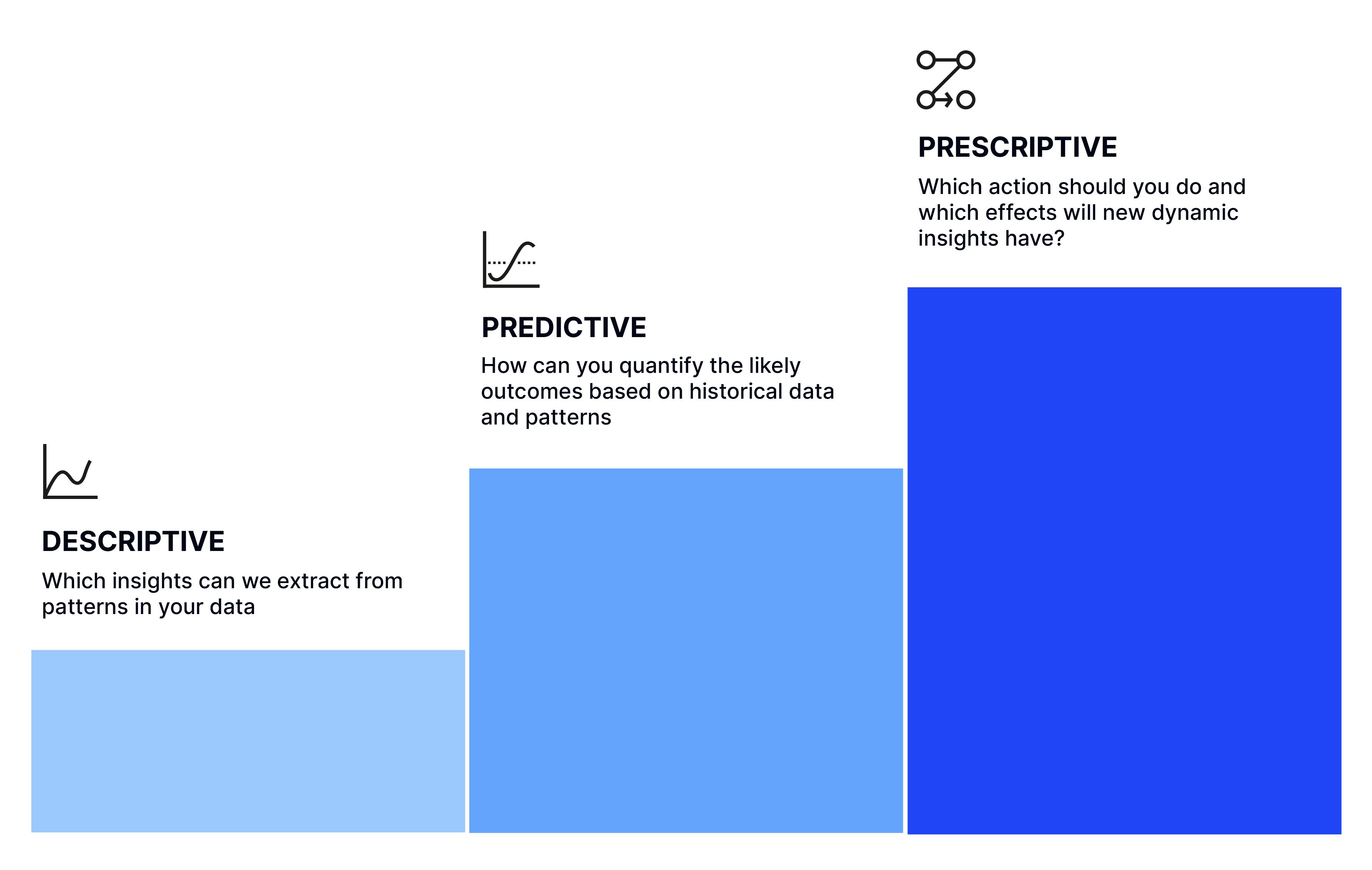 In short
We help organisations identify and clarify their data-driven opportunities, deliver impactful analytics and AI solutions for better decision-making. Our team of experts work across a variety of platforms and tools, including Microsoft Azure, Databricks, Amazon (AWS), Google Cloud, Tableau, Power BI, and OpenAI.
We identify data-driven opportunities
We enhance data ecosystems
We take unstructured data to insights
We support decision-making
We make the complex simple
Don't miss out
Are you unsure how to align your AI initiatives with your broader goals and strategies?